Replacing your siding is a high-value project with an average ROI of nearly 70%. However, before you get started on your project, you need to put some thought into which siding material makes the most sense for your home. 
Unsure where to start? You're in the right place. Keep reading to learn the most important things to consider when you're deciding which siding material to use for your replacement project. 
1. Budget
First things first, you need to settle on a budget before you start shopping for materials. This helps to ensure that you don't fall in love with a material that is outside of your price range. 
For years, vinyl siding has been considered a low-to-moderately priced siding option, which makes it a popular choice with homeowners. However, over the past year or so, vinyl siding prices have increased. As a result, fiber cement siding, like James Hardie, is now a more comparable price.
If you've been wanting James Hardie siding but were more comfortable with the price of vinyl, now is a great time to take advantage of this smaller price difference. 
2. Aesthetics
Next, you'll need to think about what you want your new siding to look like. Do you prefer the classic look of wood siding? Or maybe you prefer stone or brick? Vinyl siding is also a great traditional option that comes in a variety of styles and colors. 
Fiber cement siding offers perhaps the most customization options, as it comes in a variety of different finishes. It can even be made to mimic the look of wood, shingles, stucco, and more. 
3. Maintenance
How much time do you have to dedicate to taking care of your new siding? Your answer will likely influence your decision on which material to choose. While beautiful, wood siding requires frequent maintenance like repainting and restaining. 
Brick and stone require only moderate maintenance, making them a more popular choice. And, vinyl and fiber cement siding require the least amount of maintenance, by far. Both materials come with the siding color baked into the material, so you won't have to worry about repainting it every few years.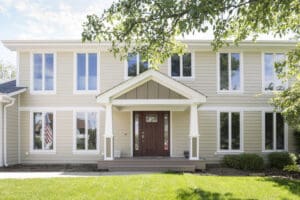 4. Durability
Ideally, you only want to have to replace your home's siding once in your lifetime. That's why it's important to choose a material that's built to last. Unfortunately, wood siding is one of the least durable options on the market, as it is susceptible to rotting, warping, and sun damage. Similarly, vinyl siding is also prone to rotting, swelling, and expanding over time. 
Brick and stone are extremely durable options, but they are prone to cracking with age. Fiber cement siding is one of the most durable siding materials available. It is specifically designed to hold up in the rain, snow, wind, and all of the other weather extremes we experience here in Wisconsin. It's also termite-resistant and water-resistant and doesn't crack, peel or fade over time. 
Choose the Right Siding Material and the Right Installer
Now that you know what to consider when choosing a siding material, you can start planning your project! Another important decision you'll need to make is who to hire for the job. The Semper Fi Roofing and Exteriors team is to answer any questions you have about the siding replacement process. 
To learn more about how we can help transform your home's exterior, contact us today.